When I finish modeling the line of a mouth, the eyes on a face, or the shape of a hand resting on a cheek, I look at the sculpture I'm working on and I discover that it has acquired an expression, a story of its own. This is what fascinates me the most: transforming my visions into forms.
My creations are often women, made of curved lines, kidnapped by an idea, caressed by sea breezes, who plunge into the salt water. From my passion for the sea, the "Wind Roses" are born: Mistral, Scirocco, Libeccio - female figures looking towards the South. Their hair indicates the direction of the wind. The wind shapes their soul.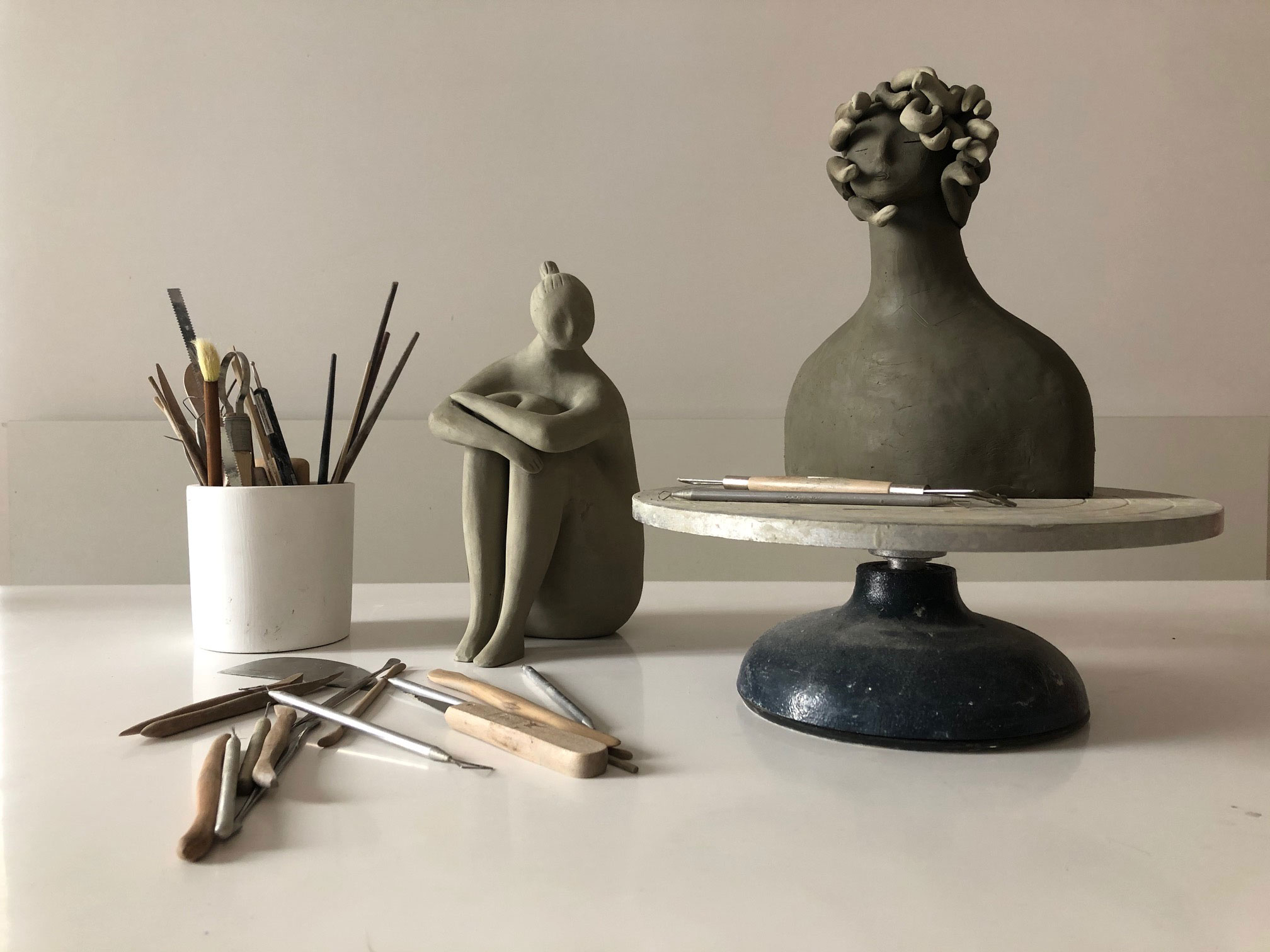 Telling with images - drawn, shot or modeled - is what I have always loved to do. My name is Paola Chartroux. I live and work in Rome. My first sculptures in clay were created in high school. I studied art history and attended a stone and wood sculpture course in Switzerland, at the Hochschule für Gestaltung und Kunst in Zurich. I worked, first as a decorator mainly making bas-reliefs, in many clubs in Rome and then in editorial and advertising graphics.
But drawings have always fascinated me. I created the illustrations for the book "Nyma and the World of Dreams" (Fratelli Palombi Editori) and several covers for the E / O publishing house. Using tempera, watercolors, and computer graphics, I drew for the advertising campaigns of SNAI, with Saatchi & Saatchi, and of Eldo for Young & Rubicam. I illustrated the Conference of the World Health Organization in Geneva in 2000 and the Viareggio Film Festival in 2001. I also drew for Pfizer, Q8, Mondadori, Gambero Rosso , RCS, Municipality of Rome, WWF, ELI Editore, Legapesca, and others. With plasticine figures I created the books "Pietro" (Gallucci Editore) and "Il Rubricotto" selected in the European Design Annual in 2000.
In 2005 I took a course in professional shooting and digital editing.
For the exhibition "Adopt a drawing" of Emergency, I directed and edited the film "The Other Children" (Edizioni Fandango), which received the Special Golden Globe, awarded by the Foreign Press, in 2009, and was a finalist in the "NGO World Videos" section of the Milano Film Festival 2009, being awarded 2nd Prize at the International Film Festival "A Film for Peace" Medea, July 2008. In 2006 I began collaborating with the RAI's TV program "Alle falde del Kilimangiaro" for which I have made travel documentaries, working on production, concept, texts, direction and editing. I traveled to Eritrea, Svalbard, Uganda, Mozambique, Portugal, Guinea Bissau, Senegal, Qatar, Bahrain, Peru, Bolivia, Jordan, Jamaica, Norway, Canada, Morocco, Cook Islands, Faroe ... As an illustrator, graphic designer and videographer I was a member of the editorial staff for "Il Male" by Vauro and Vincino. For an event in the magazine I made a human figure in papier-mache. This is how I returned to my ancient love: materials, clay, sculpture.
I love clay. It is a poor material, present in every corner of the world, a material that embodies the fundamental elements - earth, water, air and fire - a material that from the very beginning of human history has been used to create figures as a form of artistic expression. Like many before me, I too am fascinated by transforming, through my hands, a piece of earth into a story.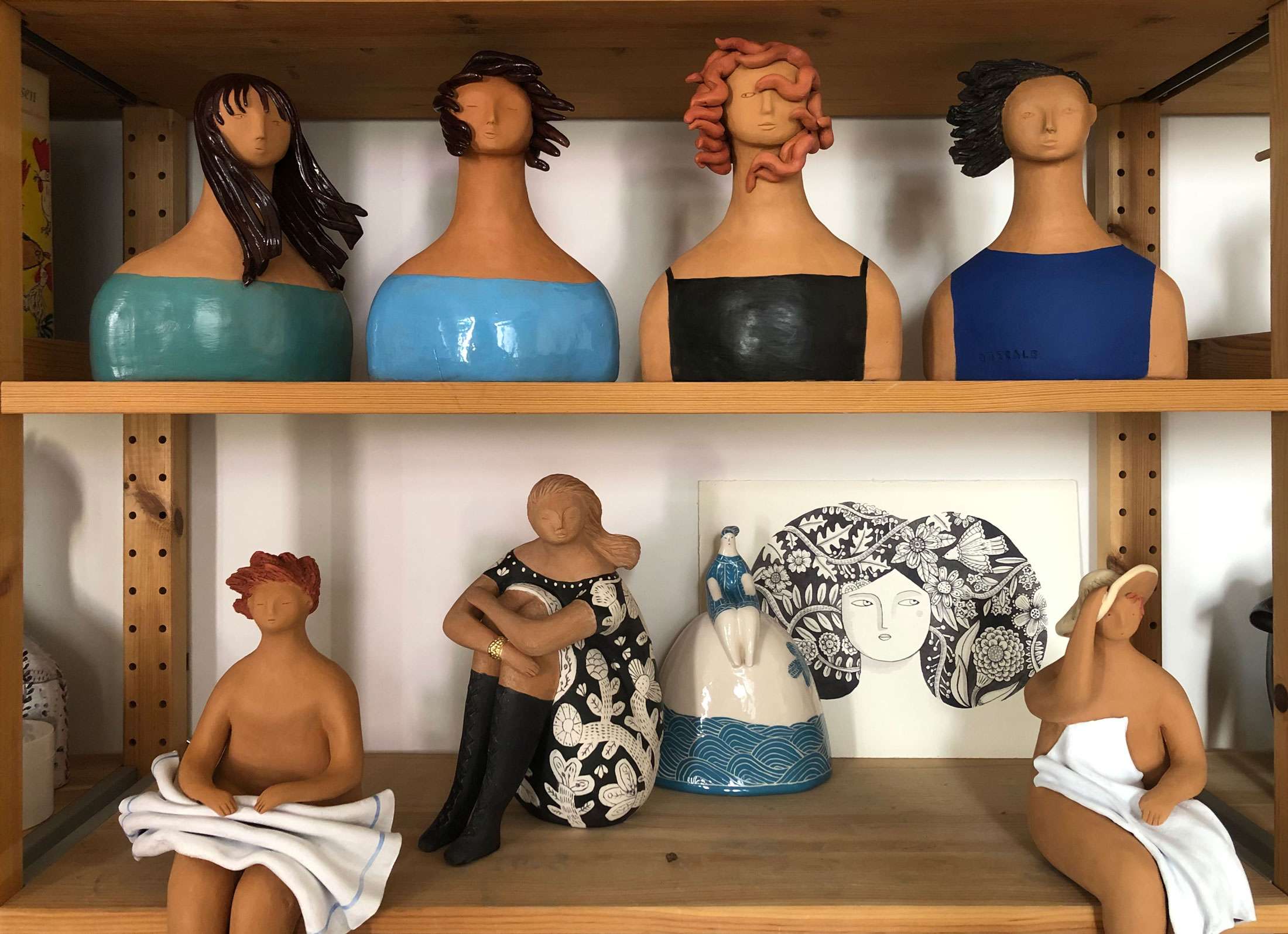 THE TECHNIQUE
I use different types of clay, white, black. I really love the classic "Italian clay" because it has a warm red color. I work the clay in several steps.
I start with fresh, soft and water-laden clay, modeling a draft of the piece I want to make. I wait a day or two until the clay becomes hard as leather. I then treat it as if it were made of soft stone: I sculpt, dig and remove material with the help of wooden and metal tools until I reach the shapes I want.
After the final touches I wait for the piece to be completely dry, then bake it in the kiln at a temperature of 1000 degrees for 10 hours.
The terra cotta clay I often like to leave as is. For those with engobes (colored clays) or with ceramic glazes a second firing, lasting about ten hours, vitrifies the piece.
Position, face, shapes, decoration: each sculpture is a unique piece. It is the offspring of a story. It is an emotion.